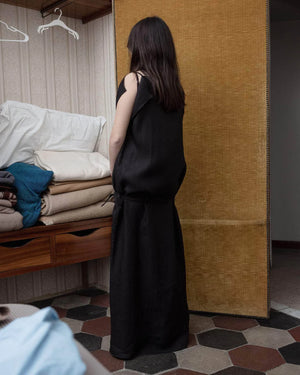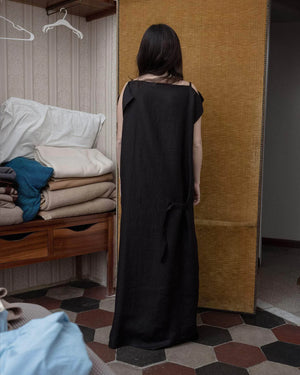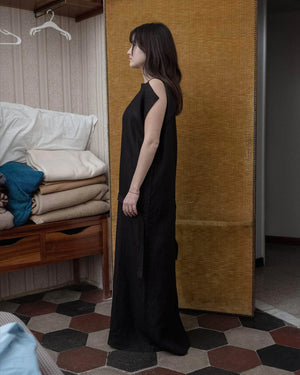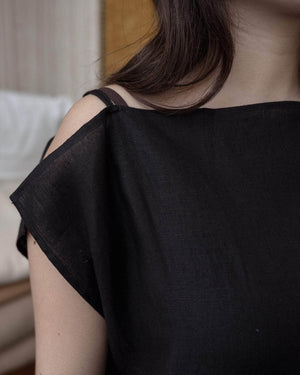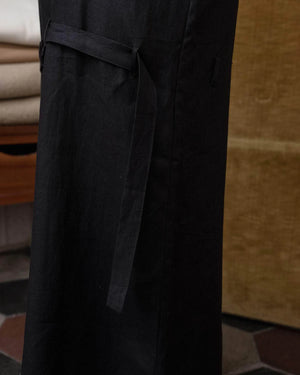 Baserange Leo Dress in Black
Product Details
Hemp dress
Straight neckline
Belt loops below hipline
Self covered belt
Worn multipe ways

100% Hemp
Made in Turkey

Model wears a size S
Size Chart
Material
Hemp
Origin: Belgium, France


Hemp is a bast fiber.
Hemp needs little help to thrive and most hemp cultivation is done with rainfall and no irrigation.
Hemp is grown in rotation, nourishing the soil for other crops. While it grows, it replenishes the soil with nitrogen and other nutrients, while removing toxic chemicals at the same time. Hemp was intentionally grown at the radioactive Chernobyl site to remove toxins and pollutants from the soil.
The average tree takes about 10 years to grow to maturity, while hemp can take as little as 3 months to be ready to harvest. Industrial hemp plants absorb more carbon dioxide than trees and store it in the soil thanks to their root system.
For hemp production, herbicides aren't necessary. Hemp also naturally reduces pests, so no pesticides are needed. It returns 60-70% of the nutrients it takes from the soil.
When you add processing into the equation, cotton uses around four times as much water as hemp. Hemp can produce over double the fiber yield per hectare as cotton.
Nothing is wasted in producing hemp: seeds are used to make oil and food supplements, while the stalks are used for fiber.
The fiber is naturally UV resistant and absorbent and is also known for its anti-bacterial, anti-mold and insulative qualities.

Care
We recommend a cold wash on a gentle cycle using natural detergent and hang drying for all our products. A colder wash saves electricity, the gentle cycle wears the fabric down less, natural detergent (especially with neutral PH) can retain the colour and elastane for longer and hang drying is easier on the clothing and the environment. Hand washing is always a good option too. If you are not separating delicates, use a laundry bag to protect the fabric from getting damaged. Look for a dense fabric for the laundry bag.
Naturally dyed garments are sensitive to sun exposure. To ensure colourfastness, do not dry or store in direct contact with the sun.
To reduce washes, we recommend airing or freezing your garments and spot cleaning whenever you have a stain. Airing helps in getting rid of the odour and you can do this by leaving your clothing outside overnight. Freezing gets rid of smell, mildew as well as moths and is effective when done for 6-12 hours. This helps keep clothing in better condition for longer and ensures the colours don't fade.
Washing synthetic fibers releases microplastics into the water system, especially during the first washes, but washing the synthetic blend fabrics in a laundry bag that captures the microfibers allows you to dispose of the microfibers properly. You can also use a laundry ball or a washing machine filter.
Clothing can shrink about 5-7% in the wash.
Knits should be stored folded, as hanging knitwear can change its shape. Storing clean clothing with cedar wood or lavender in your drawers can help prevent moths.