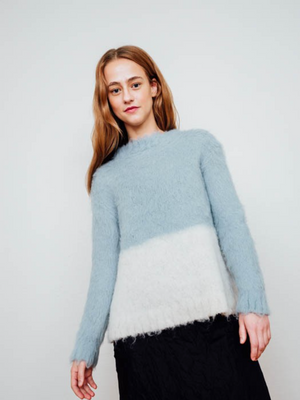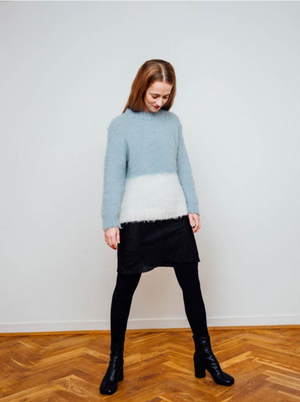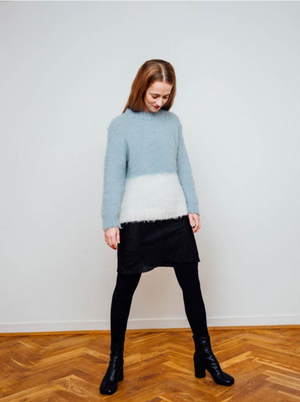 Guðrun & Guðrun hand knitted TVÍLITT SWEATER
HAND-BRUSHED SWEATER WITH ROUND NECK.
THIS TWO-COLOURED SWEATER IS BRUSHED FOR A LUXURIOUSLY SOFT HANDLE THAT HAS TO BE FELT TO BE TRULY APPRECIATED. KNITTED IN A SLIGHTLY OVERSIZED SILHOUETTE. WEAR IT WITH SWEAT PANTS AND SNEAKERS FOR AN EFFORTLESS LUXURIOUS LOOK.
COMPOSITION: 100% BRUSHED ALPACA.
HANDMADE
THE MAJOR PART OF THE COLLECTION IS HANDMADE BY FAROESE, JORDANIAN AND PERUVAN WOMEN.

ORGANIC
OUR MOST SOLD EVER LINE OF CLASSIC SWEATERS IS MADE FROM 100% UNTREATED AND UNDYED FAROESE WOOL. THE FAROESE SHEEP ARE LIVING IN THE MOUNTAINS ALL YEAR ROUND – LIVING ON UNFERTILIZED GRASS.

SUSTAINABLE
THE FAROESE YARN AND LAMBSKINS USED IN THE G&G PRODUCTION ARE WASTE PRODUCTS. THE SHEEPS ARE KEPT FOR THE MUTTON, SO NO ANIMALS ARE USED FOR OUR PRODUCTION ONLY. IN OUR NEW ACCESSORIES LINE WE USE FISH LEATHER. THIS IS ALSO A WASTE PRODUCT. THE FISH IS CAUGHT FOR EATING – AND WE MAKE USE OF THE SKIN.

NORDIC
ON WORLD MAPS THE FAROE ISLANDS ARE VERY OFTEN FORGOTTEN. IF YOU ARE LUCKY YOU WILL FIND THEM AS TINY SPOTS IN THE NORTH ATLANTIC. SO TINY AND STILL THE FRAMES OF THE MYRIAD OF LIFE.

RESPONSIBLE
THE HANDMADE PRODUCTION IS JOINTLY PRODUCED BY FAROESE, JORDANIAN AND PERUVAN WOMEN. WE HAVE OUR OWN WOMEN´S EMPOWERMENT PROJECT IN JORDAN BECAUSE "WE BELIEVE THAT WOMAN EMPOWERMENT ALL STARTS WITH THE OPPORTUNITY TO EARN YOUR OWN MONEY". WE KNOW THE PHILOSOPHY OF OUR SUPPLIERS. THEY ARE ALL FROM THE EUROPEAN UNION AND THEY ALL FOLLOW ENVIRONMENTAL AND ETHICAL RULES SET BY THE EUROPEAN UNION.
the product is KBT certified. this means that the sheep only eat organic grass and that the sheering of wool is controlled.
the product is IVN certified. this means no use of chemicals in the process of spinning, washing, and dyeing.
the finishing of the wool that makes the garment washable on wool program in 30 degrees C is a new invented method.