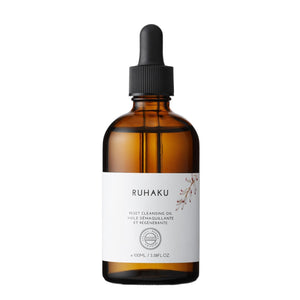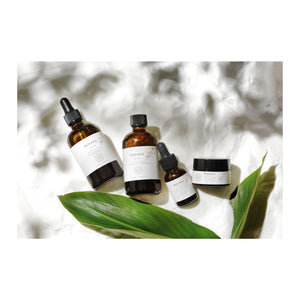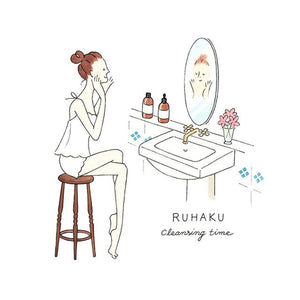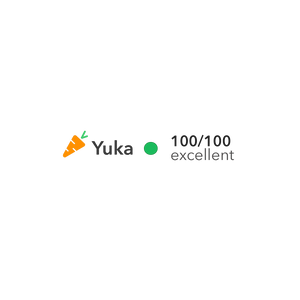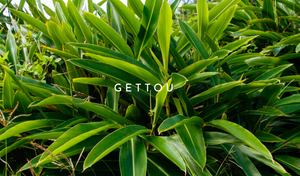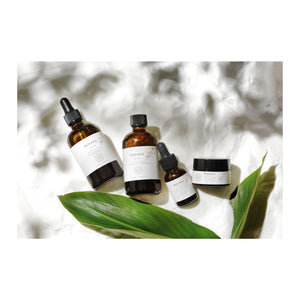 RUHAKU RESET CLEANSING OIL 100ml
Step one!
Clean with natural AHA-based oil of 5 botanical extracts
The cleansing oil removes make-up and impurities, as excess sebum without damaging the natural protection of your skin. Besides, it restores the thick extra layer of dead skin cells caused by disruption of the skin cycle, caused by exposure to ultraviolet rays which results into skin aging.
Features:
While applying, let yourself relax with the fresh and pleasant aroma of the Gettou herb. Formulated from AHA natural sources coming from 5 botanical extracts, this reset cleansing oil will leave your skin to a shining and clean state. Skin toning lotions and beauty oils easily penetrate smooth and radiant skin that has been exfoliated.
More information




Make-up remover oil is the most effective way to remove makeup, impurities and excess sebum without damaging the skin's natural barrier.

RUHAKU has developed an oil that emulsions on contact with water for a double deep cleaning.

During make-up removal, it restores the layer of dead cells due to exposure to UV rays, which cause skin ageing.

The clean and organic composition of make-up remover oil contains natural sources of AHA from 5 botanical extracts.

AHA and its micro-peeling action leave your skin radiant and silky, for a glowy complexion every day!
The gettou




The gettou: Gettou's plant grows in an area that is highly exposed to sunlight and sea breezes to protect itself, producing powerful antioxidants.  

This confers real anti-aging virtues to the water and oil extracted from the Gettou leaf.

Researchers at Ryukyu University have been proven to contain a content that eliminates "reactive oxygen" that oxidizes lipids in the skin.

RUHAKU uses only Gettou plants grown on the sacred island of Hamahiga, in the Okinawa Archipelago, which are certified by the organic organic institute "JAS".
Ingredients




6 vegetable oils: coconut oil, olive oil, jojoba oil, soybean oil, gettou leaf oil and rosemary leaf oil.

5 botanical extracts: Blueberry, Cane Sugar, Orange, Lemon and Maple Syrup.

100% of the total ingredients are of natural origin

10% of the total ingredients come from organic farming

 

100% without:




'Parabens'- Silicone-Conservatives-Petrochemicals'Artificial Colors'Artificial Perfumes'Animal Test 





Full list of ingredients

 :




 




Caprylic/Capric Triglyceride, Polyglyceryl-2 Sesquioleate, Olea Europaea (Olive) Fruit Oil, Polyglyceryl-3 Caprate, Simmondsia Chinensis (Jojoba) Seed Oil, Alpinia Speciosa Leaf Oil, Rosmarinus Officinalis (Rosemary) Leaf Oil, Glycine Soja (Soybean) Oil, Tocopherol, Aqua (Water), Vaccinium Myrtillus Fruit/Leaf Extract, Saccharum Officinarum (Sugar Cane) Extract, Citrus Aurantium Dulcis (Orange) Fruit Extract, Citrus Limon (Lemon) Fruit Extract 


ingredients from organic farming / ingredients from organic farming
How long it will last




If you use it every night, the bottle will last between 1 and 2 months.
Tips for use




In the evening, take a suitable amount on dry hands and apply on dry face, massage your whole face circularly with the pulp of your fingers.

Moisten to emulsify the make-up remover oil and rinse thoroughly with water.