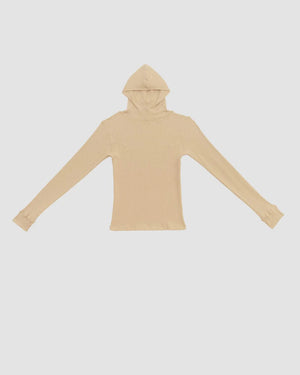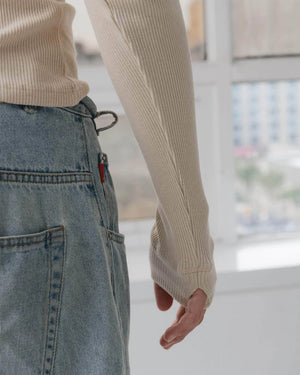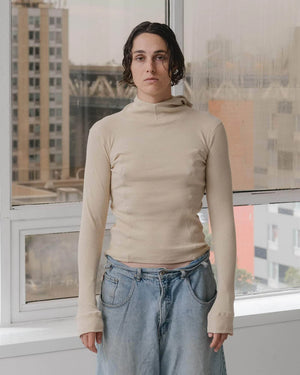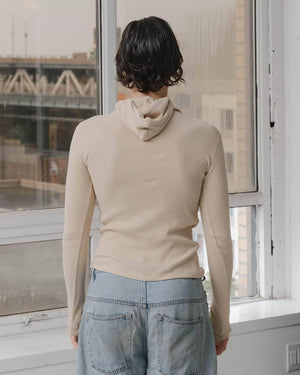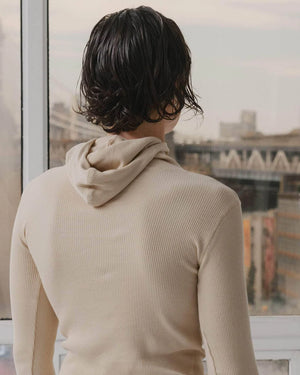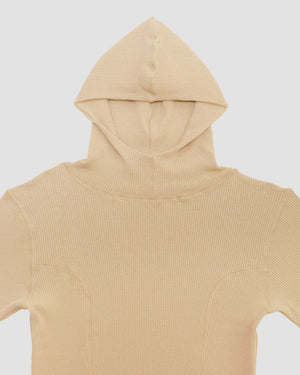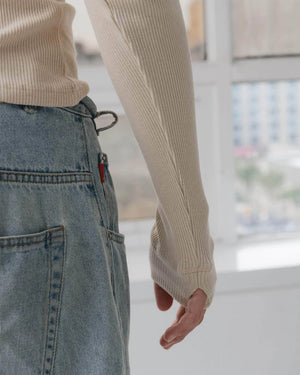 Baserange Hanifa Hoodie in Naple Tan
Product Details
Recycled cotton hoodie
High neck
Thumbholes

60% Recycled Cotton 40% Cotton
Made in Portugal

Model wears a size S
Size Chart
Material
Recycled fabrics
Origin: France, Portugal
Certifications: GRS, Oeko-tex


The process of making recycled fabrics requires firstly for the material to be sorted into clothing that can be reused and clothing that is too damaged to be reused and is therefore recycled. Clothing is then sorted based on fiber contents and color. It is a labor-intensive process, which is why only less than 1% of clothing ends up being recycled into new material.
Making recycled fabric uses less energy, dye, and water than virgin materials.
It also reduces the amount of fabric going into landfill and keeps materials in circulation for longer.
Recycled cotton is made from pre-consumer textiles such as cotton scraps, factory offcuts, or deadstock from virgin cotton fabric production. Recycled cotton is often paired with virgin cotton to improve the quality of the finished fabric, as recycled cotton often has lesser yarn strength.
Recycled wool yarns are shorter and easily break during production. We combine recycled wool with other fibers, like polyamide to make the fabric more durable and reduce waste in production.
Wool is the most recycled fiber and was the first fiber to be recycled: the recycling of wool has been done since the 19th century.
Wool has the potential to last at least 30 years and be recycled two or more times.
Recycling wool results in reduced methane emissions from sheep, reduced land use and water pollution from washing wool.
The wool we use is recycled in a closed loop system, meaning fibers are turned into yarn to create new products of similar quality and use to the original.
Recycled wool saves 11kg of CO2 and 500l of water per kilo compared to virgin wool.
Recycled polyamide has all the good qualities of virgin polyamide with a reduced environmental impact.

Care
We recommend a cold wash on a gentle cycle using natural detergent and hang drying for all our products. A colder wash saves electricity, the gentle cycle wears the fabric down less, natural detergent (especially with neutral PH) can retain the colour and elastane for longer and hang drying is easier on the clothing and the environment. Hand washing is always a good option too. If you are not separating delicates, use a laundry bag to protect the fabric from getting damaged. Look for a dense fabric for the laundry bag.
Naturally dyed garments are sensitive to sun exposure. To ensure colourfastness, do not dry or store in direct contact with the sun.
To reduce washes, we recommend airing or freezing your garments and spot cleaning whenever you have a stain. Airing helps in getting rid of the odour and you can do this by leaving your clothing outside overnight. Freezing gets rid of smell, mildew as well as moths and is effective when done for 6-12 hours. This helps keep clothing in better condition for longer and ensures the colours don't fade.
Washing synthetic fibers releases microplastics into the water system, especially during the first washes, but washing the synthetic blend fabrics in a laundry bag that captures the microfibers allows you to dispose of the microfibers properly. You can also use a laundry ball or a washing machine filter.
Clothing can shrink about 5-7% in the wash.
Knits should be stored folded, as hanging knitwear can change its shape. Storing clean clothing with cedar wood or lavender in your drawers can help prevent moths.