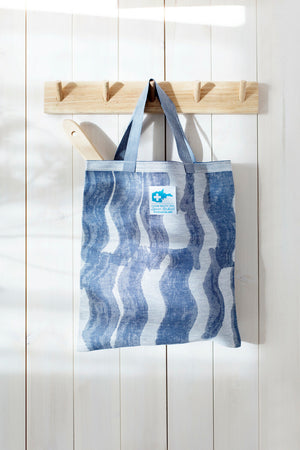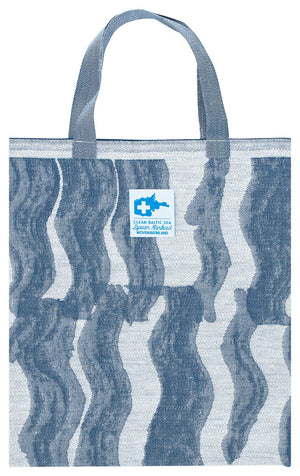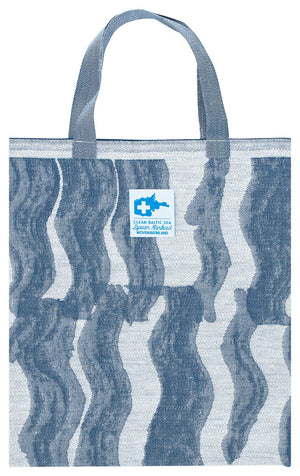 Lapuan Kankurit AALLONMURTAJA bag
linen-cotton bag. Donation for each bag is 1,20€ to save the Saimaa Ringed Seal.
Material: 
60% European Masters of linen -linen and 40% bio-organic cotton
Lapuan Kankurit helping the Baltic SeaLapuan Kankurit has begun a cooperation with the John Nurminen Foundation. The Foundation\'s Clean Baltic Sea projects advance the protection of the joint, unique marine environment, so a cooperation is a natural part of the activities of a responsible, design weaving mill using natural materials. The new Lapuan Kankurit AALLONMURTAJA (breakwater) collection is designed by Reeta Ek. The nautical series designed in shades of blue includes a linen towel, a hand towel, a bag, as well as a sauna seat cover and pillow. The products include the Clean Baltic Sea – Woven in Finland 2017 logo, and Lapuan Kankurit donates a fixed sum to John Nurminen Foundation\'s Clean Baltic Sea projects for each delivered product. The donated amounts are marked in the Lapuan Kankurit online shop, and on the product cards in the shops.Esko Hjelt, Managing Director of Lapuan Kankurit, is happy about the new cooperation.– Our customers value clean nature, and they identify Lapuan Kankurit as a responsible, ecological operator. Now, we want to invite everyone to do small good deeds for the good of the nature. By buying AALLONMURTAJA bath products, it is easy to support the wellbeing of the Baltic Sea. Hopefully future generations will get to enjoy the natural clean waters as well, says Hjelt.Minna Korpela, Fundraising Director of John Nurminen Foundation, is delighted about the new cooperation possibilities in the field of international design.– The support of Lapuan Kankurit in the projects aiming to reduce the nutrient load of the Sea helps us lessen the amount of blue-green algae that comes about every summer. Bathing and sauna products also act as a great messenger: you want to take a dip in the water when the water is clean, and this is our joint goal.Together we can all make a difference!
This product is made out of linen and bio-organic cotton. Flax is grown in Normandy, Europa and it is traceable 100% european Masters of Linen long staple linen yarn. All yarns are spun as well as dyed in Europe according to REACH regulations and fulfil the ÖKO-TEX certificate requirements.

Our strategy is to be responsible for the whole production from yarn to readymade products. Main part of our whole production is made in our own weaving mill in Lapua.

Product development, material purchases, programming of looms and design as well as warping, weaving, finishing and fabric inspection is done in Lapua in our own weaving mill. Sewing is mainly done in our own subsidiary sewing company in Lithuania or our own weaving mill in Lapua. Accessories come from Europe, mainly from Finland. Country of origin is Finland.