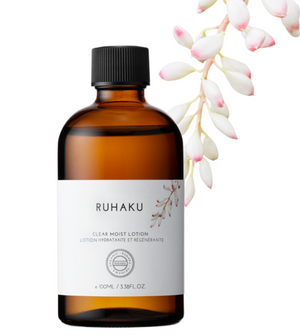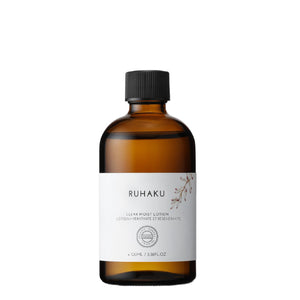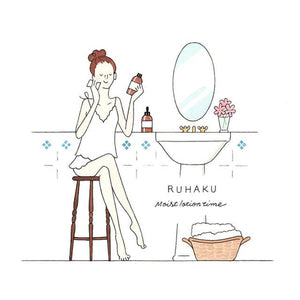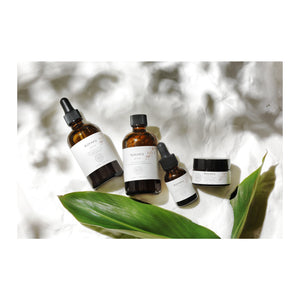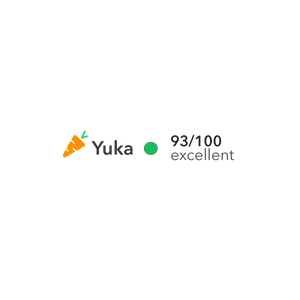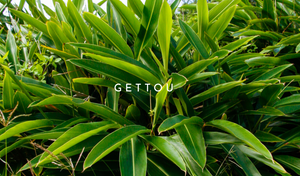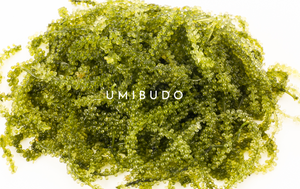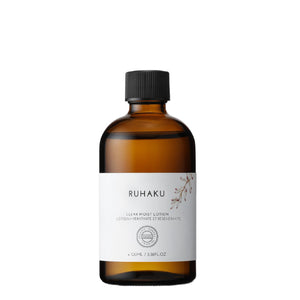 RUHAKU CLEAR MOIST LOTION 100ml
Step 2!
Moisturize with Sea Salt and Okinawa Sea Grape Lotion
The Clear Moist Lotion moisturizes the skin while softly removing cleansing agents and remaining makeup that cause dry and rough skin. Pure skin that has no stains improves the penetration of beauty oil.
Features:
Sea salt that contains rich minerals softens cuticles and leads to the smooth skin. Blended with Okinawa's sea grapes with high moisturization benefits to preserve a hydrated skin.
GETTOU that has a high antioxidant effect and care the UV damage will leads to fresh and youthful skin.
More information

The hydrating and regenerating lotion hydrates the skin while gently removing impurities and improperly cleaned make-up remnants that make the skin dry and rough.

The mineral-rich sea salt softens the pores and makes the skin smooth while the water-rich Okinawa sea grapes keep the skin hydrated.

The Gettou plant, thanks to its high level of antioxidants, treats the damage caused by UV rays to keep skin young and fresh.

Purified, blemish-free skin will allow better penetration of beauty products.

 


The gettou




The gettou: The Gettou plant grows in an area very exposed to sunlight and sea breeze, to protect itself it produces powerful antioxidants.

This gives real anti-aging properties to the water and oil extracted from the Gettou leaf.

Researchers at Ryukyu University have proven that Gettou essential oil contains a content that removes "reactive oxygen" which oxidizes lipids in the skin.

RUHAKU only uses Gettou plants grown on the sacred island of Hamahiga, in the Okinawa archipelago, which are certified by the organic organic institute "JAS".

Ingredients


The Umibudô: meaning "sea grape" in Japanese, it is a species of green algae growing in the ocean which owes its name thanks to its shape similar to grapes, the fruit. This alga is very rare, it is only found in tropical waters around Okinawa.

 Also called by Okinawa residents "the seagrass of longevity", it is very rich in minerals. It contains polyphenols and amino acids and has a hydrating function.

Blueberry water: a soothing and draining water that reduces inflammation and redness.

Sea salt: used to retain moisture and soften the skin.

Aqua (Water), Centaurea Cyanus Flower Water*, Caprylyl/Capryl Glucoside, Glycerin, Benzyl Alcohol, Butylene Glycol, Xanthan Gum, Alpinia Speciosa Leaf Oil, Maris Sal (Sea Salt), Dehydroacetic Acid, Biosaccharide Gum-1, Glyceryl Caprylate, Sodium Anisate, Sodium Levulinate, Alpinia Speciosa Root/Seed/Stem Extract, Caulerpa Lentillifera Extract, Citric Acid, Sodium Hydroxide
* ingredients from organic farming / ingrédients issus de l'agriculture biologique

ECOCERT

99% of the total ingredients are from natural origin / du total des ingrédients sont d'origine naturelle

・47% of the total ingredients are from organic farming /
du total des ingrédients sont issus de l'agriculture biologique

Natural and organic cosmetic certified by ECOCERT Greenlife / Cosmétique écologique et biologique certifié par ECOCERT Greenlife

 

Duration of use




If you use it twice a day the bottle will last between 1 and 2 months.

Usage tips

 

After cleansing, apply the lotion with a cotton pad and gently wipe your skin. If you rub too hard, it can cause pigments and stains.

Use the lotion in the morning also to remove dust and toxins that have been removed overnight.