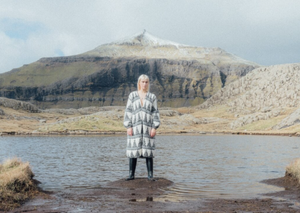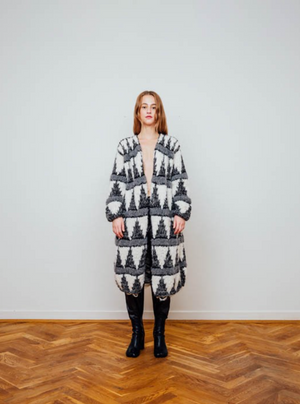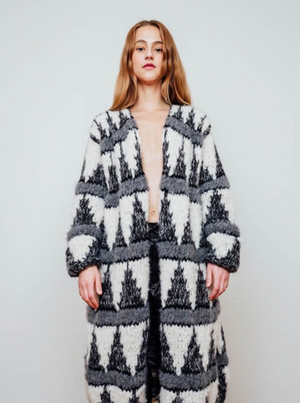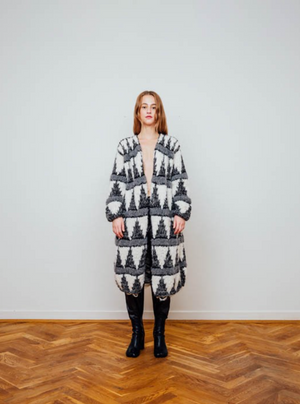 Guðrun & Guðrun PINE LONG JACKET
HAND-KNITTED OVERSIZE COAT WITH LINING.
EQUALLY LUXURIOUS AS VERSATILE. THIS COAT IS CUT FOR A ROOMY, COCOONING FIT IN SUPER SOFT ALPACA GIVING YOU A WELCOMED HUG WHEN THE COLD SETS IN.
COMPOSITION: 80% ALPACA, 20% WOOL. LINING: 100% POLYESTER.
FAROESE WOOL – CHARACTERISTICS AND QUALITIES
ON FAROE ISLANDS THERE IS AN OLD SAYING, WHICH TRANSLATED TO ENGLISH GOES: "WOOL IS THE GOLD OF THE FAROE ISLANDS". THE FAROESE WOOL HAS A RICH TEXTURE AND IS NATURALLY RICH IN LANOLIN, WHICH MAKES IT WATER RESISTANT.  THE RICHNESS OF LANOLIN ALSO MAKES IT DIRT RESISTANT. THE WOOL WE USE HAS NOT BEEN CHEMICALLY TREATED.
ADDITIONALLY TO BEING EXCEPTIONALLY WARM AND COMFORTABLE, WOOL ALSO HAS THE UNIQUE QUALITY OF BEING ABLE TO CONTAIN UP TO 35% WATER WITHOUT FEELING WET.  

ONE NOTABLE FEATURE OF THE FAROESE SHEEP IS THE VARIETY OF NATURAL COLORS: WHITE OR CREAM, BLACK, BROWN AND A VARIETY OF GREY COLORS.
Our vision is to make a difference. Which is very simple and yet very ambitious. We want to make clothes that live up to the standards of conscious customers that do care about each other, the environment, our common natural resources and that yet want to be stylish.


HANDMADE
THE MAJOR PART OF THE COLLECTION IS HANDMADE BY FAROESE, JORDANIAN AND PERUVAN WOMEN.

ORGANIC
OUR MOST SOLD EVER LINE OF CLASSIC SWEATERS IS MADE FROM 100% UNTREATED AND UNDYED FAROESE WOOL. THE FAROESE SHEEP ARE LIVING IN THE MOUNTAINS ALL YEAR ROUND – LIVING ON UNFERTILIZED GRASS.

SUSTAINABLE
THE FAROESE YARN AND LAMBSKINS USED IN THE G&G PRODUCTION ARE WASTE PRODUCTS. THE SHEEPS ARE KEPT FOR THE MUTTON, SO NO ANIMALS ARE USED FOR OUR PRODUCTION ONLY. IN OUR NEW ACCESSORIES LINE WE USE FISH LEATHER. THIS IS ALSO A WASTE PRODUCT. THE FISH IS CAUGHT FOR EATING – AND WE MAKE USE OF THE SKIN.

NORDIC
ON WORLD MAPS THE FAROE ISLANDS ARE VERY OFTEN FORGOTTEN. IF YOU ARE LUCKY YOU WILL FIND THEM AS TINY SPOTS IN THE NORTH ATLANTIC. SO TINY AND STILL THE FRAMES OF THE MYRIAD OF LIFE.

RESPONSIBLE
THE HANDMADE PRODUCTION IS JOINTLY PRODUCED BY FAROESE, JORDANIAN AND PERUVAN WOMEN. WE HAVE OUR OWN WOMEN´S EMPOWERMENT PROJECT IN JORDAN BECAUSE "WE BELIEVE THAT WOMAN EMPOWERMENT ALL STARTS WITH THE OPPORTUNITY TO EARN YOUR OWN MONEY". WE KNOW THE PHILOSOPHY OF OUR SUPPLIERS. THEY ARE ALL FROM THE EUROPEAN UNION AND THEY ALL FOLLOW ENVIRONMENTAL AND ETHICAL RULES SET BY THE EUROPEAN UNION.
the product is KBT certified. this means that the sheep only eat organic grass and that the sheering of wool is controlled.
the product is IVN certified. this means no use of chemicals in the process of spinning, washing, and dyeing.
the finishing of the wool that makes the garment washable on wool program in 30 degrees C is a new invented method.