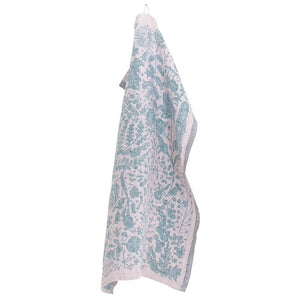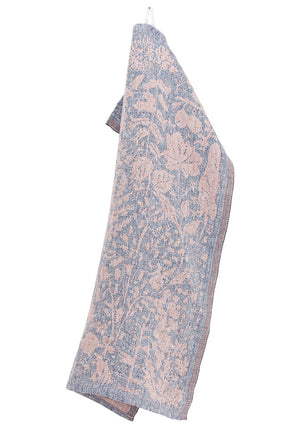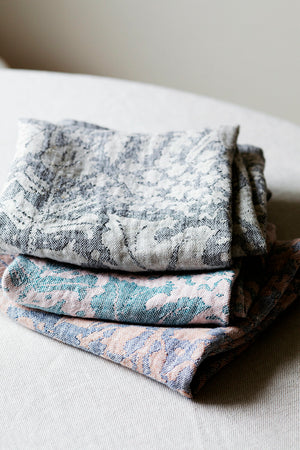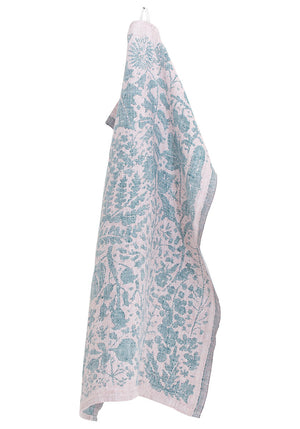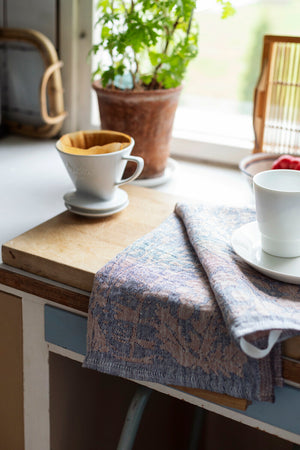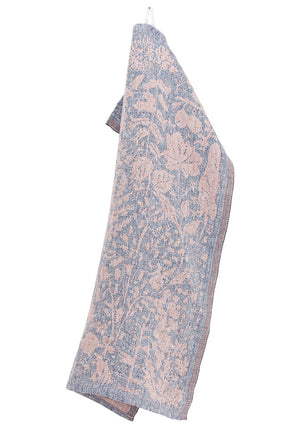 LAPUAN KANKURIT Villiyrtit Hand towel
Tablecloth made of 100% washed linen. Can be used as a summer blanket
The Villiyrtit tablecloth, designed by Matti Pikkujämsä for Lapuan Kankurit, is adorned with a rich, flowing pattern showcasing the delicacies of Finnish nature – "villiyrtit" is Finnish for wild herbs. The pattern is mirrored on the other side in opposite colours. The versatile cloth can also serve as a picnic blanket or a light throw. Made of 100% linen and woven in Finland at the own weaving mill of Lapuan Kankurit.


Material : 100% washed European "Masters of Linen" linen
Colour : Rose petroleum
Dimensions : Length70 cm Width48 cm
Care instructions : Machine wash in 60 °C
Designer :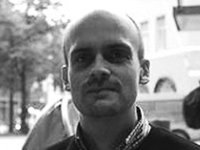 Matti Pikkujämsä (b. 1976) is a Finnish illustrator and graphic designer, who graduated from University of Art and Design Helsinki and has become known for his warm and humorous children's book illustrations. He has also designed several book covers; prints for brands such as Samuji, Marimekko and Kauniste and illustrations for Finnish magazines and newspapers. In 2013 Pikkujämsä won the Rudolf Koivu illustration award and two years later the State Prize for Illustrations.
100% EUROPEAN LINEN
Linen is one of the most ecological natural material. A true « carbon well », each year one hectare of flax retains 3,7 tons of CO2.
It grows with rainwater without irrigation, which saves groundwater and maintains a healthy ecosystem. The plant does not require hardly any plant-protection products.
Flax is one of the oldest textile fibers in the world. We use European linen yarn that is produced in Europe according to Öko-Tex standards. Our mill is certified Masters of Linen weaver. This gives a guarantee of 100% European traceability of the plant to the thread and the fabric.
The absorbent and breathable qualities of linen make it the perfect material for almost all textiles. It repels dirt and dries fast. Linen it's perfect for kitchen!
A absorbent linen towel can absorb up to 20% of its own weight in water - without feeling damp to the touch! The fiber also releases the moisture easily, which makes the towels dry quickly. Perfect for spa and sauna!
Linen feels pleasant and cool to the touch, and it pampers your skin by improving blood circulation. It also contains minimal traces of allergens. You may choose either rough linen terry of soft washed linen. Which one you prefer?
The unique beige color of linen fabric is the natural hue of flax, the color of nature. These products are not dyed, only washed or bleached. It's linen in its most natural form.
Flax is a strong fiber. What makes linen textiles especially beautiful is its durability. It's a sustainable choice, because linens can be passed down generations.