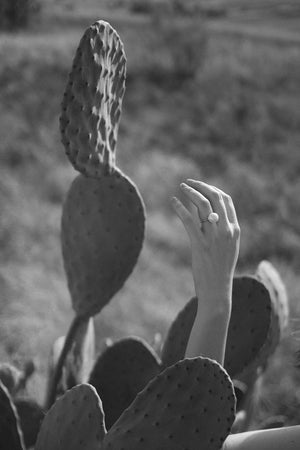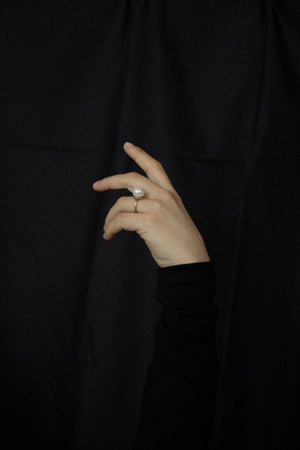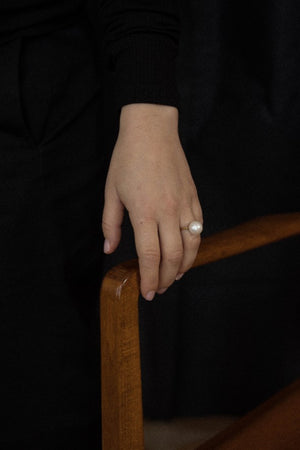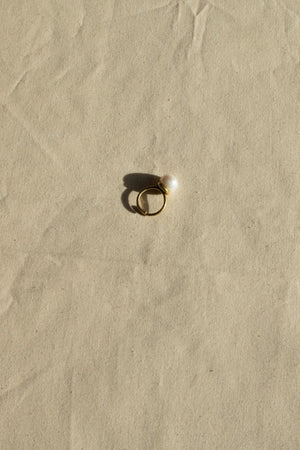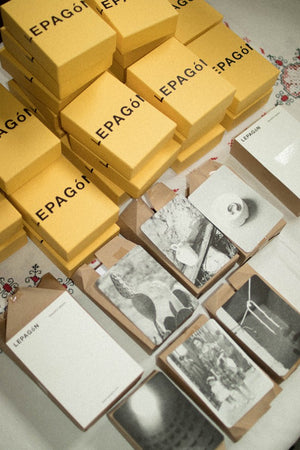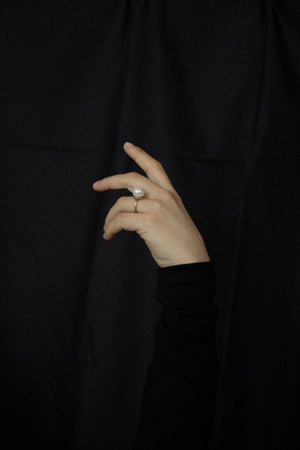 LEPAGóN Big Pearl Ring
Solid ring made of brass with a big cultivated pearl. Hand made in Spain. Adjustable. Lost-wax casting cire perdue process. Prototype hand made with metal. 
Irregular, with foundry pores, preciously imperfect, a tiny adaptable sculpture with a stunning pearl. Each one different from the others.
NOTES
Total weight 5.50gr + Brass + Hand made in Spain + cultivated pearl from PRC + adjustable + Packaging includes a box and an special cloth to clean brass
Lepagón, the sober beauty
Gema Palacio founded Lepagón in Madrid in 2014 while she works as a museum and exhibition architect, although it is in 2020 in La Sagra Alta Toledana where it acquires its true meaning. The return to her maternal roots and direct contact with the La Mancha countryside and its landscape and human sobriety, are a wonderful context to shelter the brand into the essentials.
Environment, tradition, art, architecture and antique jewelry, are things that inspire me and on which I rely to develop timeless pieces with a sculptural will.
All the goods are handmade in Spain in collaboration with small family businesses. I work with very low stock, I like to make each good for each client, and I firmly believe in the sustainability of this process.
Lepagón explores the elegance of the discreet, in a commitment to honesty and fullness that comes from living without artifice or imposture. For this reason, the mission of the brand is not to create applied decoration, but to design jewellery with a backbone vocation that affects a new way of experiencing and feeling yourself. Inside out.
Care your item
All our goods are hand made in Spain. We don't like call them jewelry, they are little sculptures. They can have foundry pores, but they belong to the cire perdue process and they make special each item. Each one different from the others, with preciously and precisely imperfection.
Mostly they use brass, and sometimes Sterling silver. You can view all details on products pages.
Each pieces are polished very carefully and give them the appear they have when you get them. But in the fact of using them, they can change the colour or the original surface. I think this is magic and belong to your own story.
Specially brass goods, can oxidize when they are used, but we include with every order a professional clean cloth to keep them always good.
You can clean brass too, with a home made paste with a bit of vineger, salt and flour. You can envolve every item (only for pieces made of brass, without pearls or any stone) with this paste  and leave it some minutes, then rinse it and dry with a clean soft cloth.
Always we recommend to try to keep your jewellery dry at all times. Always avoid contact with chemicals such as perfume. After wearing, gently wipe with a soft, clean cloth and store in a dry place.
If you want to avoid "green finger" caused for brass in contact with our PH, you can apply transparent nail laquer on every zone would be in contact with your skin like inside rings or behind earrings.
Enjoy your item and let it belong to your story!