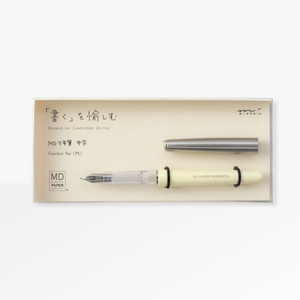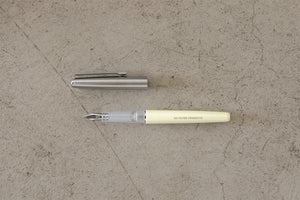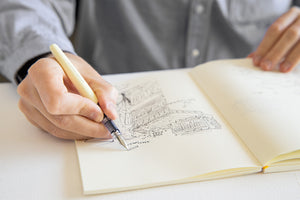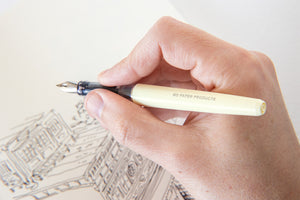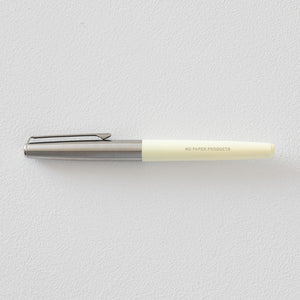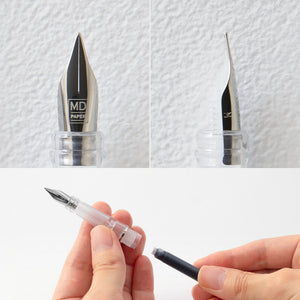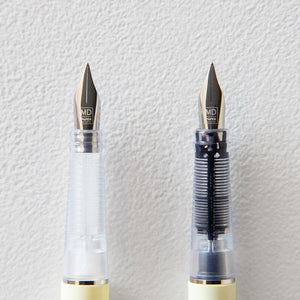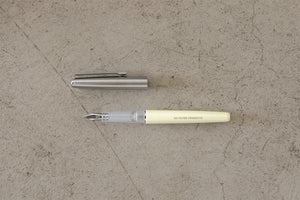 Midori Paper MD Fountain Pen, Medium Nib
A fountain pen for anyone, anywhere.
Have you ever wanted to try writing with a fountain pen but assumed it would be difficult to use? Worry no more!
This pen is easy to use, no matter where you are.
This pen is as light as a pencil with a slip-proof grip to keep it steady.
The nib is a happy medium, so that your lines will be neither too narrow nor too bold.
Whether you're sketching out ideas or writing a diary, letter or card, this pen makes writing a pleasure.
Midori Paper Fountain pen is now available at Kyō.

Its nib is shaped like a birds beak, and this curved tip accomodates your writing style. If you for example tend to put a lot of pressure, the curved nib absorbs this you will still write with minimal smudging at every angle.

Even if you are a fast writer, the nib keeps up with you. No matter what angle you write from, this pen writes smoothly without blurring.

Midori MD Paper Products introduces the Fountain Pen as an easy everyday pen, for fountain pen beginners, and fans alike.


It features a clear window, so you can see the (colour) of the ink, and the ink flowing through.

Details:
Measures 7 x 16 cm
Weighs approx. 15g
Pen nib measures M (but to us is closer to a S)
Includes 1 black cartridge
Made in Slovenia (Pen)

Midori MD Paper
MD Paper is Midori's pride when it comes to the art of making paper. Being a stationery manufacturer from the 1950's, MD Paper can be described as part of their blueprint. Ever since Midori made MD Paper in the 1960's, they have applied the Japanese 'Kaizen' principle, meaning they are continuously looking for ways to improve its quality. The result is paper that will not stain, or bleed and is fantastic to write on, especially with a fountain pen.